A rise and fall saw follows a cycle of operations until the cut is complete. A clamp holds timber against the table, while a circular blade lifts to cut through it. Once the cut is complete, the blade retracts, the clamp lifts, and the timber can be moved, ready for the next cycle.
While this guidance has not been updated to reflect current work health and safety legislation (the Health and Safety at Work Act 2015 and regulations), it may still contain relevant information and practices to keep workers and others healthy and safe.
Please read this guidance in conjunction with all relevant industry standards that apply to you as a PCBU. This guidance will be progressively reviewed and either updated, replaced with other guidance, or revoked.
A rise and fall saw is used to cut knots and other imperfections from lengths of timber, as well as cutting timber for items like pallets and packing cases.
Figure 1: rise and fall saw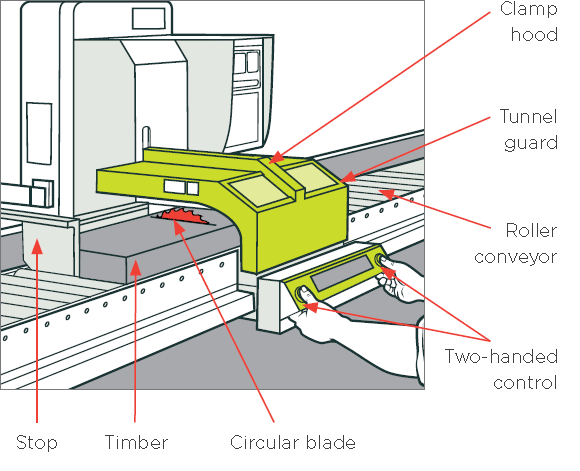 Hazards
Contact with clamp
Contact with blade
Noise
Dust
Slips, trips and falls
Contact with exposed blades (during maintenance, cleaning and repairs)
Personal protective equipment (PPE)
Ear protection
Eye protection
Dust protection
Tasks
Task – secure and cut timber
Cutting cycles can start by accident. Blades running down to stop turning after a cycle will present a hazard if access to them is possible before they stop turning.
Hazard
Harm
Trapped hand
Crush injuries
Controls
CLOSE OFF the tunnel to within 10 mm above and on the sides of the timber being cut.
The tunnel guard must be no further than 6 mm away from the clamping hood and must not create a trapping point.
Hazard
Harm
Controls
FIX guarding to prevent access to the blade.
REPLACE damaged guards.
USE two-hand control to ensure that both hands are removed from the point of operation.
USE a push stick or the following piece of timber to clear timber in the tunnel.
COVER pedals to prevent accidental operation.
Other (non-mechanical) hazards
Hazard
Harm
Hearing damage or loss
Discomfort/ringing in the ears
Controls
REDUCE noise levels by isolating machines or enclosing within noise barriers.
ASSESS noise levels.
ARRANGE hearing screenings.
ALWAYS WEAR hearing protection.
Hazard
Harm
Eye irritation or damage
Breathing problems, lung damage or cancer
Worsening of existing health problems
Controls
USE dust extraction equipment to minimise dust getting in the operator's breathing zone.
ALWAYS WEAR eye protection.
ALWAYS USE respiratory protection.
Hazard
Harm
Controls
KEEP up-to-date housekeeping procedures.
KEEP the area around saws clear of slip and trip hazards.
Task – Maintenance, cleaning & repairs
Hazard
Contact with exposed blades
Harm
Controls
LOCK-OUT all power supplies before maintenance, cleaning and repairs, or a